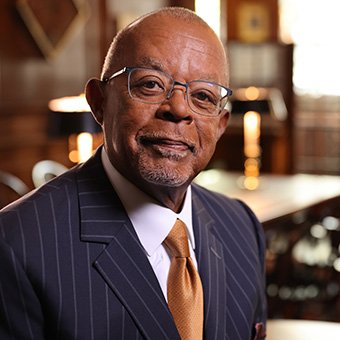 Henry Louis Gates, Jr. is the Alphonse Fletcher University Professor and Director of the Hutchins Center for African & African American Research at Harvard University. Emmy and Peabody Award-winning filmmaker, literary scholar, journalist, cultural critic, and institution builder, Professor Gates has published numerous books and produced and hosted an array of documentary films, including, most recently, The Black Church on PBS and Black Art: In the Absence of Light for HBO. Finding Your Roots, his groundbreaking genealogy and genetics series, just completed its eighth season on PBS.
During his distinguished career, tracing the history and culture of people of African descent the world over, Gates has made significant contributions to France especially. As a Harvard scholar, he was one of the principal organizers of the watershed International Conference on African Americans and Europe at the Sorbonne in 1992. Four years later, he played a similarly pivotal role as an organizer of the International Conference on African American Music and Europe, also at the Sorbonne. 
In 1973, working as a young London-based journalist fresh out of college for Time magazine, Gates explored the lives of Black American expatriates. As part of his investigation, he interviewed Josephine Baker individually and then drove her to James Baldwin's home in St. Paul-de-Vence, where he interviewed them together in conversation over dinner. Baldwin later wrote an unfinished play based on that extraordinary encounter and called it "The Welcome Table."
In the past year, Gates also co-edited the book Who's Black and Why? A Hidden Chapter From the Eighteenth-Century Invention of Race, which unearthed a collection of sixteen essays submitted to a contest held by Bordeaux's Royal Academy of Sciences in 1739 seeking answers to the origins of "Black Skin and hair." For three centuries, these documents in French and Latin sat in the archives awaiting discovery. In publishing them with commentary, Gates has given us a fascinating and revealing look at the theoretical underpinnings of scientific racism during the long eighteenth century that witnessed both the Enlightenment and the trans-Atlantic slave trade.
Gates is a recipient of a number of honorary degrees, including from the University of Caen and, most recently, his alma mater, the University of Cambridge. Gates was a member of the first class awarded "genius grants" by the MacArthur Foundation in 1981, and in 1998 he became the first African American scholar to be awarded the National Humanities Medal. 
A native of Piedmont, West Virginia, Gates earned his B.A. in History, summa cum laude, from Yale University in 1973, and his M.A. and Ph.D. in English Literature from Clare College at Cambridge in 1979, where he is also an Honorary Fellow. A former chair of the Pulitzer Prize board, he is a member of the American Academy of Arts and Letters and serves on a wide array of boards, including the New York Public Library, the NAACP Legal Defense Fund, the Aspen Institute, the Whitney Museum of American Art, Library of America, and The Studio Museum of Harlem. In 2011, his portrait, by Yuqi Wang, was hung in the National Portrait Gallery in Washington, D.C. He is a member of the Phi Beta Kappa honor society.