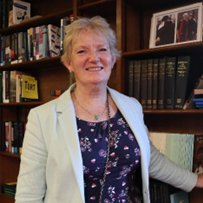 Pippa Rogerson has been Master of Gonville & Caius College, Cambridge University since 2018. She was previously a fellow at Caius from 1989. She is now Chair of the Committee of Colleges. Pippa was chair of the advisory committee for the selection of the new Vice-Chancellor for the University of Cambridge. She is also a Professor in Private International Law in the Faculty of Law, Cambridge University, where she has been an academic for over thirty years. Her research interests lie mostly in international commercial litigation before the English courts. She lectures and writes in that area. 
During her time in Caius and Cambridge, Pippa has been variously Lecturer in law, Director of Law Tripos, Director of Studies in Law, Tutor, University Advocate, member of the University Council and General Board, and supervisor of PhD students – along with participating in or chairing other committees. She has been involved in various diversity and inclusion initiatives. Her first degree was in economics and law from Cambridge (Newnham). Before returning to take a PhD in law, Pippa qualified as a solicitor in a "magic circle" City law firm. 
Pippa is a widow with five daughters (18-30). Her other interests include choral singing, horses, and walking the family's two exuberant Labrador dogs.