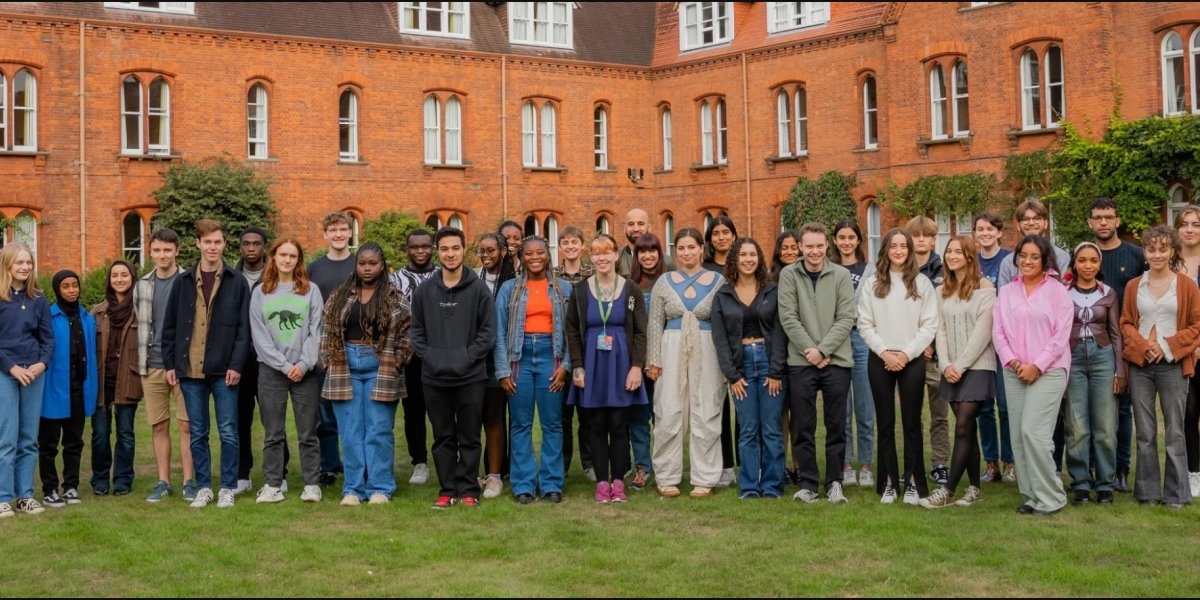 The first 47 Foundation Year students arrive at the University of Cambridge
Cambridge's first-ever Foundation Year students are among those who have arrived at the University for the start of the new academic year.
The 47 students are joining the new one-year, pre-degree programme, created to address educational disadvantage and disruption, and offering a new route to undergraduate study for students who demonstrate the academic talent and potential to succeed in a degree in the arts, humanities, or social sciences.
Free and fully funded, the Cambridge Foundation Year recognises the achievements of an entirely new stream of applicants, students who might not have otherwise applied to the University. By doing so, the programme aims to help ensure that circumstances and opportunity are not a barrier to future academic success.
Amélie, 19, studied A-levels at a state sixth form college, but personal circumstances meant her learning was disrupted. Before joining the Cambridge Foundation Year she spent a gap year working as a waitress and in a care home.
"I always wanted to go to Oxbridge," she said. "But when that's your ambition you need to be able to focus entirely on studying at sixth form, however because of my circumstances I wasn't able to do that. I was sofa surfing and basically thinking about where I was going to sleep that night, about finances and how I was going to get myself to college the next day. I took a year out, because I just wanted to have a stable income, have somewhere to live that was completely stable.
"I achieved well in my A-levels, but I was very nervous about the idea of applying to university again because I'd lost some confidence and I'd been out of education for a little while. I was looking at the Cambridge University website and I came across the Foundation Year, which is just an unbelievably exciting opportunity."
Mature student Khalid, 36, a volunteer youth worker from Derby who returned to education to study for an Access to HE Diploma, said he hoped the Foundation Year would give him the opportunity to use his experience at Cambridge to make positive changes in society.
He said: "I'd been out of education for 16 years. It feels a little overwhelming sometimes, but the Foundation Year staff have been very supportive. I want to make positive and impactful changes in my community and society, real change. I have an interest in sociology and criminology from my volunteering work and want to go on to study this at degree level, after the Foundation Year. Opportunities like this would seem far-fetched to people in my community – it's life changing."
Taught by a dedicated team of Arts, Humanities and Social Sciences specialists, the students will follow an engaging and challenging curriculum, developing their existing skills and learning new critical approaches through lectures, seminars and supervisions.
Dr Corinne Roughley, Senior Teaching Associate for the Foundation Year, said: "These are students who, for different reasons, haven't had the opportunity to come to Cambridge through the usual route. The Cambridge Foundation Year is a unique course, it isn't A-levels, and it isn't the first year at university - it's a tailor-made programme that supports students to acquire key academic literacies that will let them flourish. The students are very excited and have already brought so much enthusiasm with them."
Dr Alex Pryce, Foundation Year Course Director, said: "Welcoming our first Foundation Year students to Cambridge has been an absolute pleasure, and that welcome is extended across the University and Colleges.
"We're incredibly excited to see this brand new programme start at Cambridge. It's about realising students' potential, but at the same time it's important to acknowledge how much these individuals have already achieved before getting to Cambridge. Having spent time with them already, I know they are going to make the most of this opportunity, and in turn, they each bring so much to the wider University community."
The Cambridge Foundation Year offers a stepping stone to Cambridge for those whose experiences have negatively affected their attainment, including students with experience of the care system, estrangement from parents, low levels of household income, and schools with little history of sending students to highly selective universities.
A cornerstone gift from philanthropists Christina and Peter Dawson is funding the launch of the programme and full one-year scholarships for all students who are accepted. Students will study at one of the 13 Cambridge colleges participating in the pilot programme. They will also be taught at the new West Hub, on the University's emerging West Cambridge Innovation District.
Christina Dawson said: "Peter and I were inspired by the University's aim to address educational disadvantage in wider society and saw the Foundation Year as our opportunity to be part of that change.
"I was delighted to meet the students and their teaching staff earlier this summer. Their enthusiasm was contagious and highly encouraging.
"We feel confident that they will fully embrace the challenging opportunities the course offers with the support of their colleges and dedicated teaching staff."
Typical offers for the Cambridge Foundation Year - which is open to those ordinarily resident in the UK who meet specific eligibility criteria - require 120 UCAS Tariff Points, which is equivalent to BBB at A-Level. The usual Cambridge offer is at least A*AA. A rigorous admissions process helps admit students who will thrive on the Foundation Year and be able to progress to a degree at Cambridge – including interviews and assessment.
Click here to read The Times of London story about Cambridge's first-ever Foundation Year students.