Seattle, WA: Madagascar: Climate Change In An Unpredictable Environment with Professor Dame Alison Richard
Seattle, WA: Madagascar: Climate Change In An Unpredictable Environment with Professor Dame Alison Richard
Thursday, April 6, 2023,

6.00pm

to

8.00pm

PDT
Thursday, April 6, 2023,

6.00pm

to

8.00pm

PDT
Join former Vice-Chancellor Professor Dame Alison Richard (Newnham) for a special event: Madagascar: Climate Change In An Unpredictable Environment.
Professor Richard is the author of The Sloth Lemur's Song: Madagascar from the Deep Past to the Uncertain Present and will discuss the rich history of Madagascar--one of the world's biodiversity hotspots, the threats it faces, and what it says about global climate change.
This event will be moderated by noted pulmonologist and NBC/MSNBC medical analyst Vin Gupta (Sidney Sussex) MD, MSt, MPA.
We look forward to seeing you!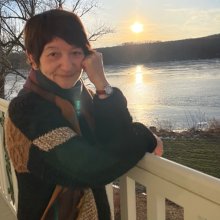 Professor Dame Alison Richard is a Senior Research Scientist in the Yale Anthropology Department and Franklin Muzzy Crosby Professor Emerita of the Human Environment, and was Provost of Yale University from 1994-2002. She has studied the ecology and social behavior of wild primates in Africa, Central America, and the Himalayan foothills, but she is most widely known for her research on lemurs in Madagascar. Her most recent book, The Sloth Lemur's Song: Madagascar from the Deep Past to the Uncertain Present, is a far-reaching account of Madagascar past and present. For over forty years, she has worked to help conserve the island's unique natural heritage and enhance socio-economic opportunities for people living in and around forests in the southwest. 
Richard served as Vice Chancellor of the University of Cambridge from 2003-2010. During her tenure, she led several major changes in University policy, reorganized management of the University's endowment, expanded Cambridge's global partnerships, and launched and completed a transformational fund-raising campaign. For her accomplishments, she was awarded a DBE (Dame Commander of the British Empire) for her services to Higher Education.
Richard is a trustee of the Howard Hughes Medical Institute and the Liz Claiborne & Art Ortenberg Foundation. She chairs the Advisory Board of the Cambridge Conservation Initiative and the Leadership Council of the Yale Peabody Museum of Natural History, and serves on the Advisory Board of Arcadia. Richard received her undergraduate degree in Anthropology at the University of Cambridge, and her doctorate from London University.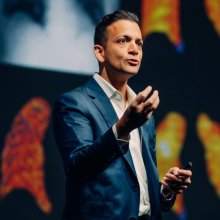 Vin Gupta, MD, MSt, MPA is a practicing pulmonologist and affiliate faculty at the University of Washington's Institute for Health Metrics and Evaluation and Evans School.  In parallel, he is a Commissioned Officer (O-4, Major) in the United States Air Force Medical Reserve Corps, serving as the Officer-in-Charge of the Critical Care Air Transport Capability at Joint-Base Lewis McChord. Outside of his civilian and military clinical responsibilities, Dr. Gupta serves as Chief Medical Officer of Pharmacy and New Health Initiatives at Amazon and is a medical analyst for NBC News and MSNBC.
Dr. Gupta received his Bachelor of Arts degree from Princeton University, Medical Doctorate from Columbia University's Vagelos College of Physicians and Surgeons, Masters in Public Administration from Harvard's Kennedy School of Government and Master of Studies in International Relations from the University of Cambridge. He has active board certification in Internal Medicine, Pulmonology and Critical Care Medicine and completed his clinical training at Brigham & Women's Hospital.
Booking information
Location
The Rainier Club
United States